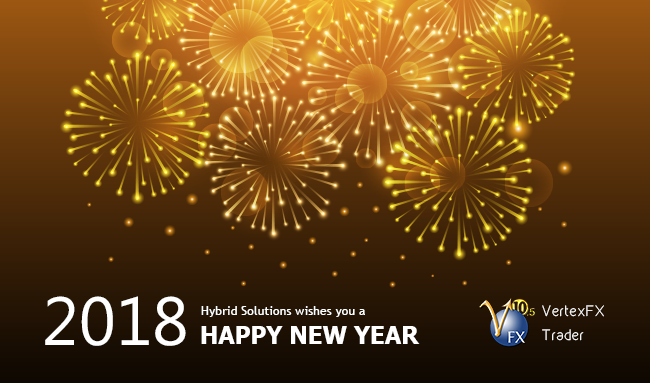 Dear Valued Customers,
Hybrid Solutions wishes you a Happy New Year. We are looking forward to 2018 and we're sure that you are too!
In 2018, we will continue our hard work to improve your preferred trading platform, VertexFX Trader.
We would like to draw to your attention that we will not be available on Monday, January 1st, 2018 due to New Year holiday. The team shall return back to serve you on Tuesday, January 2nd, 2018 on-wards.

If you have any technical inquiry during the holiday, please email us at support@hybridsolutions.com or open technical ticket.
Regards,
Hybrid Solutions Team
---
مرحباً
هايبرد سوليوشنز تتمنى لكم سنة جديدة سعيدة، نحن نتطلع إلى عام 2018 و نحن على يقين أنك أيضاً تتطلع لها.
في 2018 ، سنقوم بمزيد من التطوير على منصتكم المفضلة ، فيرتكس إف إكس.
نودُّ أن نحيطكم علماً بأننا لن نكون متواجدين يوم الإثنين، الأول من شهر يناير بمناسبة السنة الميلادية الجديدة على أن يعود العمل يوم الثلاثاء ، الثاني من الشهر نفسه.
اذا كان لديكم أي استفسارات أثناء عطلة السنة الميلادية الجديدة بإمكانكم إرسال إيميل على support@hybridsolutions.com أو من خلال فتح تذكرة في قسم الدعم الفني
فريق هايبرد سوليوشنز
---